Efficient Self Defence - Fitness - Fun - Health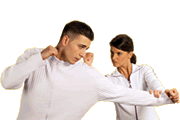 Wing Tsun (empty hand system) and Newman Escrima (weapons system) are taught in Ireland by the instructors of the IEWTO. Classes are taught in a safe and friendly environment. The emphasis in both Wing Tsun and Newman Escrima is effective self-defense both for women and men. As a result of regular training students also improve fitness and confidence.
WingTsun is a dynamic martial art, suitable for both men and women; taught to FBI, SEK, Bodyguards, etc.
The IEWTO is part of the largest professional martial arts organisation in the world.
National Instructor for Wing Tsun
Dai-Sifu Rainer Tausend 7th PG WT
 
Representative in Ireland
Sifu Aidan Canavan 5th PG WT
For information about the European WingTsun Organisation, visit the homepage of the EWTO: www.WingTsunwelt.com